Diana Taylor Realty
Home By Design
december | january | 2019
sweet souvenirs
A Sentimental Journey with Travel Mementoes
WRITTEN BY JEANINE MATLOW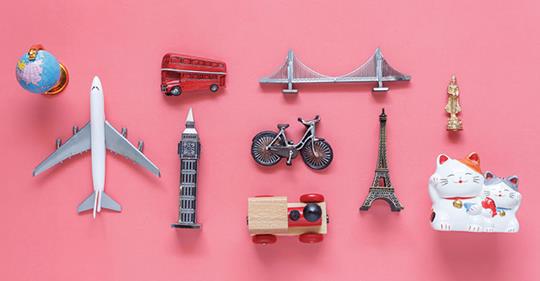 Travel trinkets might seem like a good idea until they end up in cardboard boxes in the basement. Because the average trip goes by in the blink of an eye, selecting souvenirs that are meaningful can stretch the experience. So,
 while your time away may be over, the memories from these handpicked mementoes can last a lifetime. Take the opportunity to peruse items with ties to that location. Even a gift shop at an airport or a train station can yield fun finds. It could be something as simple as gourmet snacks that come in a keepsake container or a necktie with a unique motif.
CULTURE CLUB
Tourist attractions such as New York City have souvenir shops on practically every corner. Look for little trinkets as you explore the local attractions. Try to find lightweight items that can fit in your luggage, and protect breakables with plastic bags or bubble wrap whenever possible. Miniature versions of landmarks like the Chrysler Building and the Brooklyn Bridge can be the impetus for a collection and a great conversation starter. You can never go wrong with global fashion finds, whether it's a sombrero from Mexico that can hang on a hook and be worn for festive occasions, or a pair of classic clogs from Holland that can become planters or bookends. A kimono from Japan adds color to your wardrobe, while handcrafted leather shoes from Italy are a timeless investment.
DISPLAYS AND DOCUMENTS
Shadowboxes can help contain your miscellaneous travel collections while allowing you to showcase these pieces instead of keeping them tucked away. Another simple solution is to label Mason jars with the location and date of your stay before filling them with natural elements from the area, such as seashells and beach glass. Even foreign currency takes on an artistic tone in a container.
Anything from vintage maps to restaurant menus can be framed for a trip down memory lane. A corkboard can hold ticket stubs from a recent excursion, while a travel journal lets you document your experience by recording the highlights of your time away. You might even compile some photos and notes in a scrapbook that you keep on a coffee table for regular reference.
Sweet Souvenirs
"Miniature versions of landmarks like the Chrysler Building and the Brooklyn Bridge can be the impetus for a collection and a great conversation starter."
PICTURE-PERFECT
In the age of cell phones, photos are a given when visiting other cities, countries, and continents. In an exotic locale like Thailand or South Africa, the landscape provides the perfect scenery for images that can later be laminated for placemats or coasters with a personal spin.
Whether you find yourself drawn to souvenir snow globes or shot glasses, sticking with a specific category can narrow down the search and lead to an impressive collection that retains its emotional value over time. Each piece tells a story, whether it's a terrycloth robe from a hotel gift shop or a handmade vase from an artist co-op.
MEALS AND DEALS
Sampling the cuisine of a region is part of the travel experience. Ask the restaurant staff if you can keep a menu or grab an extra coaster or book of matches to mark the memory. Save your wine or champagne corks to display in a bowl or make them into a trivet or wreath. Cookbooks or recipes from the places you visit can lead to savory meals that are reminiscent of your trip.
If you have a passion for vintage and antique pieces, stopping at secondhand venues in other locations can lead to unique wares that may vary in style and price from the ones typically found in and around your hometown. Finding something with historic ties to your destination is an added bonus.
TRIP TOKENS
Books that highlight your favorite journeys can be the perfect token from your stay, while one-of-a-kind creations by local artisans capture the essence of the area. A collection of magnets on the fridge can serve as a virtual map of your travels, and colorful document boxes can hold knickknacks from Pittsburgh to Paris.
Lastly, thoughtful travel mementoes make great gifts. Instead of a kitschy keychain, surprise your house sitter or family member with a practical item such as a high-quality pair of gloves or bottle of olive oil. They will appreciate being thought of, and your offering might inspire their own travels.
Diana Taylor Realty
519.868.2631
dianataylor@royallepage.ca
www.DianaTaylor.ca
Featured Magazine
As featured in Home By Design® Magazine
Information deemed reliable but not guaranteed. All measurements are approximate. ©2018 By Design Publishing. All rights reserved.
Share Tweet Pin Email Share